Live loads are defined as those which can vary both in their magnitude and location. Live loads are primary concern while designing a bridge or any structure where the load moves along the span of the structure.

To understand the behaviour of structure due to live load or moving load, it is necessary to understand the concept of influence line.
An Influence line represents the variation of structural response function (support reaction, shear force, bending moment or deflection etc.) due to change in the position of a concentrated load on the span (such as bridges, cranes, conveyor etc.). A plot of the influence line vs the load position is known as influence line diagram.
It is important to understand the difference between influence line diagram and the shear or moment diagram. Influence line represent the effect of moving load only at a specified loaction on a member, while shear and moment diagrams represent the effect of dead load (fixed load) at all point along the axis of the structural member.
Once the influence line diagram is plotted we can easily locate the position of load for the maximum value of a structural response function
. This is extremely helpful in designing the structural components subjected to live loads and making provisions to accommodate those changes or alterations in the values of structural response. In the case of an overhanging beam it is very clear that direction of the support reaction will reverse if the load is placed on the overhanging part instead of between the supports.
It is also noticed that all statically determinate beams will have influence lines which are linear. Click on the following links to know more about influence line.
Procedure for developing influence line diagrams
Applications of influence line diagram
You can also use the following calculators for Moving Load Analysis
Calculator for Moving Load Analysis for Maximum B.M. at a section of simple beam
Calculator for Absolute Maximum B.M. due to moving loads for simple beam
You can also select from the following links of solved examples to get prepared for your exams like GATE and GRE.
---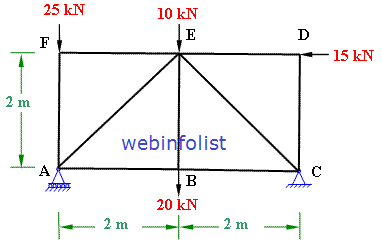 Solved Examples on Application of equilibrium equations to find support reactions; truss member forces by method joints and method of sections.
---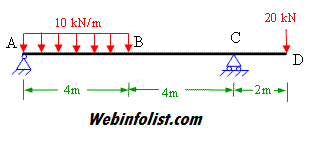 Solved examples on shear force and bending moment diagrams for cantilever, simply supported beam and overhanging beams.
---

Solved examples on deflection of beam and truss by different methods like doble integration, Macaulay's method, energy method (unit load method).
---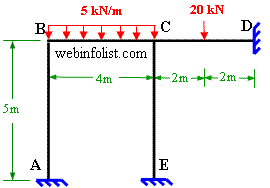 Solved examples on indeterminate structures by slope-deflection equation, moment distribution method, consistent deformation(compatibility)
---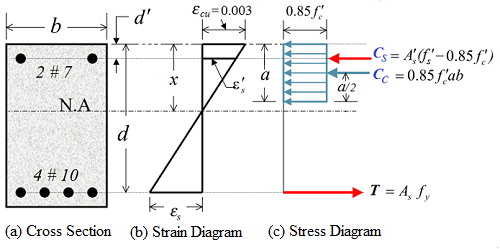 Solved examples for determination of strength of reinforced concrete beams (singly reinforced and doubly reinforced).