Analysis of Doubly reinforced concrete beam
Although concrete has high compressive strength, there might be a need to provide steel in the compression zone also in some circumstances e.g. reducing the size of cross-section, deflection control, difficulty in placing all the tension rebar within the width of the singly reinforced beam even by using two or more layers. A beam which has steel rebar in tension as well as compression zone is known as doubly reinforced concrete section. The compression reinforcement will do the following;
(i) increase in the the ductility of the beam .
(ii) raise the neutral axis and the depth of compression stress block
(iii) increase in the strain of tension reinforcement.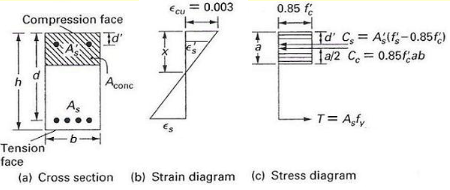 The nominal moment strength of a doubly reinforced concrete beam can be found in the manner given below;
With reference to the equivalent stress diagram as per Whitney,
Force of tension due to tension rebar;
T = (area tension rebar) * (stress of steel)
T = As fy
It is required that tension steel has yielded when failure takes place. This makes sure that the section is not controlled by concrete.
Force of compression due to concrete;
CC = 0.85fC' b a acting at a/2 from the top edge
Force of compression due to compression rebar;
CS = AS' (fs' - 0.85fc' ) acting at distance "d' " form the top edge.
for equilibrium of the section; Compression = Tension.
T = CC + CS
The above equation will give the value of "a", and hence the nominal moment strength is calculated by taking the moment of both the compressive forces about the centroid of tension rebar area.
Mn = Cc (d - a/2) + CS (d - d')
To learn more about calculating the strength of reinforced concrete beam please visit solved Example 9-1 , Example 9-2, Example 9-3
You can also use our free online calculator for strength of Reinforced Concrete beam.
Select from the following links of solved examples to get prepared for your exams like GATE and GRE.
---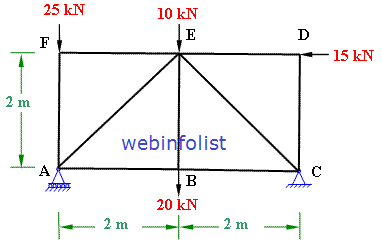 Solved Examples on Application of equilibrium equations to find support reactions; truss member forces by method joints and method of sections.
---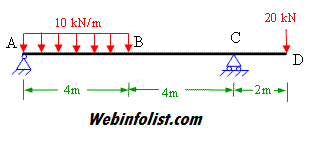 Solved examples on shear force and bending moment diagrams for cantilever, simply supported beam and overhanging beams.
---

Solved examples on deflection of beam and truss by different methods like doble integration, Macaulay's method, energy method (unit load method).
---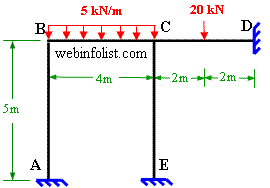 Solved examples on indeterminate structures by slope-deflection equation, moment distribution method, consistent deformation(compatibility)
---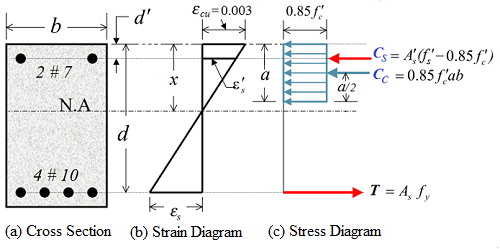 Solved examples for determination of strength of reinforced concrete beams (singly reinforced and doubly reinforced).