ACI (American Concrete Institute) has developed guidelines to help in design of reinforced concrete beams. Some of them are given below
Spacing of Reinforcement
1. Minimum clear spacing between parallel bars in a layer should be equal to diameter of the bar but not less than 1 inch.
2. Where parallel reinforcement is placed in two or more layers, bars in the upper layers shall be place directly above the bars in the bottom layers with clear spacing between the layers not leass than 1 in.
3. Maximum spacing of reinforcement bars closest to the tension face shall not exceed the following;
s = 15 (40,000/fs ) - 2.5 cc
or s = 12(40,000/fs )
where cc is the least distance from surface of reinforcement to the tension face, and fs is the calculated stress in reinforcement closest to the tension face.
The table given below is showing minimum beam width required for a reinforced concrete rectangular section as per ACI guidelines
#14 and #18 are rarely used for beams. This table is based on the assumption that maximum aggregate size does not exceed three-fourth of the clear space between bars, and the #3 bars are used as stirrup.
The diameter of different bar sizes are given in brackets; #3(0.375in), #4 (0.5 in.), #5 (0.625 in.), #6 (0.750), #7 (0.875), #8 (1.00 in.), #9 (1.128 in.), #10 (1.270 in.) #11 (1.410 in.), #14 (1.693 in.), #18 (2.257 in.)
Minimum amount of reinforcement in a beam should be maximum of the following
As,min = 3(f 'c )0.5 bd / fy
or As,min = 200 bd / fy
the values of f 'c and fy are taken in psi (pound per square inch), and the concrete used should not have f 'c less than 2500 psi.
Commonly used concrete has f 'c ranging from 3000 psi to 6000 psi, and steel with fy of 40000 psi, 50000 psi or 60000 psi.
Minimum cover requirement:
In case of concrete not exposed to weather or in conctact with ground the cover for re-bar shall not be less than the following
for #14 and # 18 bars- 1.5 in. cover
for #11 and smaller bars- 0.75 in. cover
In case of concrete exposed to earth or weather the cover for rebar shall not be less than the following;
#6 through #18 bars- 2 in. cover
#5 and smaller- 1.5 in. cover
In case of cast against and permanently exposed to earth, a cover of 3 in. should be provided.
To learn more about calculating the strength of reinforced concrete beam please visit solved Example 9-1, Example 9-2, Example 9-3
You can also use our free online calculator for strength of Reinforced Concrete beam.
You can also select from the following links of solved examples to get prepared for your exams like GATE and GRE.
---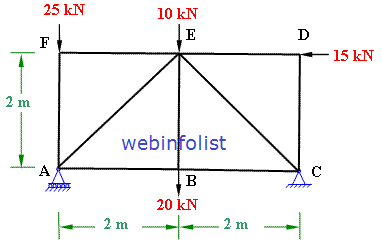 Solved Examples on Application of equilibrium equations to find support reactions; truss member forces by method joints and method of sections.
---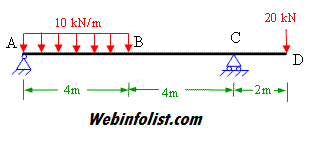 Solved examples on shear force and bending moment diagrams for cantilever, simply supported beam and overhanging beams.
---

Solved examples on deflection of beam and truss by different methods like doble integration, Macaulay's method, energy method (unit load method).
---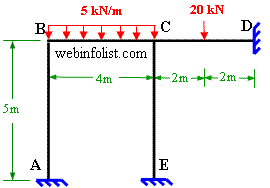 Solved examples on indeterminate structures by slope-deflection equation, moment distribution method, consistent deformation(compatibility)
---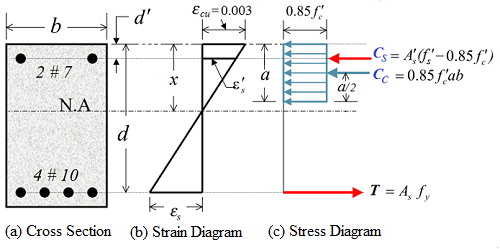 Solved examples for determination of strength of reinforced concrete beams (singly reinforced and doubly reinforced).