Problem 7-7: A cantilever beam subjected to a point load and uniformly distributed load is shown in Figure 7-7(a). Use the method of conjugate beam to determine the slope and deflection at point C of the cantilever.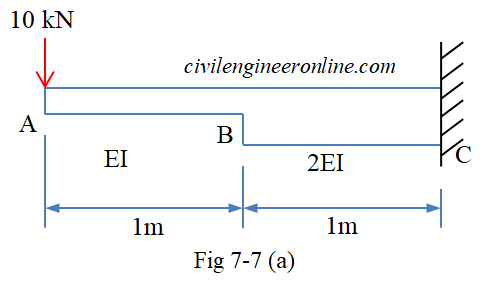 Solution:
Conjugate beam is an imaginary beam which is used to solve the problems of slope and deflection. Step 1: Develop Conjugate beam: First draw Bending moment diagram (BMD). Then with the help of this BMD, the M/EI (bending moment/EI) diagram is drawn by dividing the bending moment values by the corresponding values of EI of the real beam figure 7-7(b). This load on the conjugate beam will be acting downward as the bending moment diagram is negative.
The free end at A of the real beam become fixed support A′ of conjugate beam and the fixed support C of the real beam becomes the free end C′ of conjugate beam.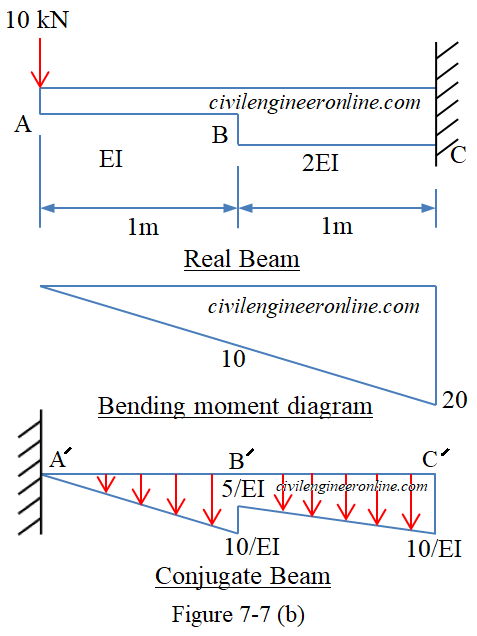 Figure 7-7(b)
Step 2: According to conjugate beam theorem 1 , the slope at any point of real beam is equal to shear force at the corresponding point of conjugate beam. Therefore the slope at A is equal to the shear force at A′ of the fixed support of conjugate beam
Hence, the Slope at A = Shear force at A′ of conjugate beam
= area of load diagram of conjugate beam;
= 0.5 x (1) x (-10/EI) + 0.5 x (1) x (-5/EI - 10/EI)
= - 12.5/EI ;
Step 3: Deflection at A is equal to bending moment at fixed support A′ of conjugate beam.
Hence, the deflection at A = Bending moment at A′ of conjugate beam
Now we take moment of the triangular area (from A′ to B′) and trapezoidal area (from B′ to C′) about point A′. For simplicity we can divide the trapezium into a rectangle and triangle
Therefore, Deflection at A = 0.5 x (1) x (-10/EI) x (2/3) + (1) x (-5/EI) x (1 + 0.5) + 0.5 x 1 x (-5/EI) x (1 + 2/3);
= -15/EI
You can also solve this problem by using our online calculator for Slope and Deflection of cantilever beam
Select from the following links of solved examples
---